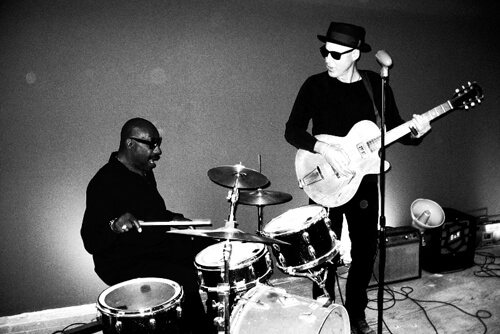 Quotes about Markus James, performing with Marlon Green on drums:
"you went out every night and killed it!" –Joe Satriani
(Markus and Marlon opened 16 concerts in Europe for Joe Satriani in
From Frederic Lamoureux, Montreal International Jazz Festival, about Markus and Marlon's performance at the 2014 Montreal Jazz Festival: "Really really good. Loved it. The crowd too. Thanks!"
From Eric Funk, Mountain Chill Radio, about Markus and Marlon's performance at Telluride Blues and Brews Festival 2014: "Exceptional."
For live performances contact
roadwarrioragency@gmail.com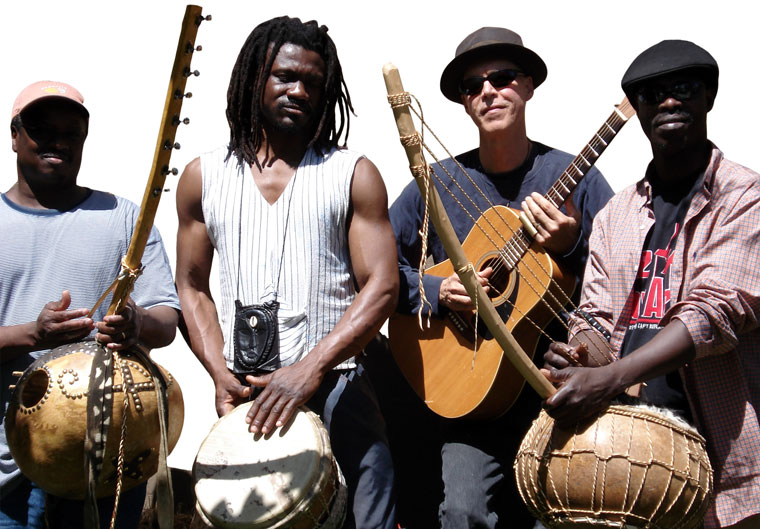 "A vital mix of the Mississippi Delta and Mali, a cultural exchange of haunting beauty and mystery."
—BLUES REVUE MAGAZINE
"
"
—Roots Music Report
"Excellent…
"
—Global Rhythm Magazine
"Eerily atmospheric…
"
—Downbeat Magazine
"Music that conjures the very soul of the Sahara…
evokes the spirit of the blues."
—Billboard Magazine
In the US, Markus James tours with The Wassonrai, featuring West African musicians based in the US. They have performed in venues ranging from a four-star catfish restaurant in Mississippi, to New York City's Lincoln Center Outdoors Series, to Festivals, clubs, and PAC's.
Presenters' comments
"His orginal approach to blues music combining American Roots Blues with West African roots music is such a soul filled experience. They created some magical music." —Fred "Freddie Blue" Goodrich, WWOZ, New Orleans, LA
"His shows are mesmerizing! Guiding his talented musicians through their musical journeys with confidence and ease, Markus James draws us in to his world which includes destinations from Mali to Memphis."
 —Bill Bowker, Sonoma County Blues Festival, KRSH radio, Santa Rosa, CA
"Timbuktoubab was a highlight of the Mill Valley Film Festival. The bridge between U.S. blues and traditional Malian music was made palpable, both onscreen and in live performances by Markus James and The Wassonrai. It was a dynamic and memorable event for an enthusiastic audience. —Zoë Elton, Mill Valley Film Festival
"Subscribers and single ticket buyers alike raved about the soul-touching music." —Tegan McLane, Performing Arts Coordinator, City of Sunnyvale, CA
MEDIA
Radio
NPR's "All Things Considered", CMJ New World Top 20 (10 weeks), RMR Roots Blues Top 20 (17 weeks), syndicated shows: House of Blues Radio Hour, Blues Deluxe, BBC's True Blues, PRI's Afropop Worldwide, PRI's "The World"
TV
Award-winning film, "Timbuktoubab", on satellite (Dish TV and Direct TV networks); seen on many PBS stations including major markets Los Angeles, Philadelphia, Atlanta
PRINT
revues and features in:
Billboard, Blues Revue, Wired, AMG, Downbeat, Dirty Linen, fROOTS (UK), Boston Phoenix, others
VENUES
Lincoln Center Out of Doors Series
Santa Monica Twilight Series
PRI / BBC's "The World"
Bridges Auditorium (L.A.)
Ashland Armory (OR)
Access (Detroit, MI.)
Festival Internationale (Lafayette, LA)
Great American Music Hall (SF)
Price Center Ballroom (U.C. San Diego)
Hothouse (Chicago)
Sonoma County Blues Festival (CA.)
Hi-Tone (Memphis, TN)
Center for Southern Culture (U. of Miss.)
Vancouver Folk Festival
Sierra Nevada World Music Festival
MARKUS JAMES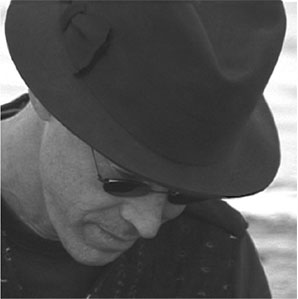 Markus James is originally from Virginia and the DC area, where his first musical memory, from the age of four, is of an old, blind blues singer he saw many times playing on a sidewalk. He first encountered West African stringed music at the Smithsonian Folklife Festival when he was mesmerized by the Gambian Kora player and singer, Alhaji Bai Konte. Markus settled in Northern California, writing and recording in rock and R&B styles while also pursuing his interests in African, Indian, and Gamelan music. He travelled in West Africa and also Haiti, studying traditional ensemble drumming, before first visiting Mali in 1994, when he made his way to the village of Niafounke to meet the legendary "Malian Bluesman", Ali Farka Toure. It was then that Markus first recorded original, Blues-based songs with Wassoulou musician Solo Sidibe, which became the "where you wanna be" album, released 6 years later. He has produced several programs for PRI's Afropop Worldwide, notably "Ali Farka Toure: Live From Niafounke". Markus has returned to Mali many times, where he has written and recorded blues-influenced music with traditional Malian musicians, notably his 2002 release "nightbird", and 2005's album and film "Timbuktoubab", which have been warmly received by critics in the US and Europe. He has performed at the Festival In The Desert, near Timbuktu, in 2003, 2004, and 2006; and in 2007 and 2008, Markus performed at the Ali Farka Toure Festivals, in Bamako and Niafounke, Mali, honoring his friend and inspiration.
Markus' collaborations in Timbuktu with Hamma Sankare (Calabash player on Ali Farka Toure's tours and albums), Hassi Sare (master of the one-stringed Njarka violin), and Solo Sidibe (who plays the Kamele N'Goni, the hunter's harp of the Wassoulou people) are the subject of the documentary film and CD / DVD "Timbuktoubab". The film has been presented by 3 Film Festivals, broadcast frequently on national satellite channel Link TV (Blues. and Dish networks), and on many PBS stations. The album spent 10 weeks on the CMJ New World radio top 20 chart, reflecting the programming tastes of over 200 music hosts.
Markus' release, "Calabash Blues", includes tributes to Blues legends Skip James and Howlin Wolf; each song features the traditional sound and rhythms of the calabash, recorded at the source of the ancient roots of Blues music. Calabash Blues spent 17 weeks in the top 20 of the Roots Blues airplay chart, with tracks featured on the nationally syndicated House of Blues Radio Hour, Blues Deluxe, and the BBC's True Blues.
"Snakeskin Violin", recorded in Mali, Mississippi and California, spent 8 weeks in the CMJ New World top 20, and was featured on nationally syndicated shows: House of Blues Radio Hour, NPR's "All Things Considered", Afropop Worldwide, and XM Satellite's "Cafe", among others.
Markus James
Head for the Hills
Markus James
Snakeskin Violin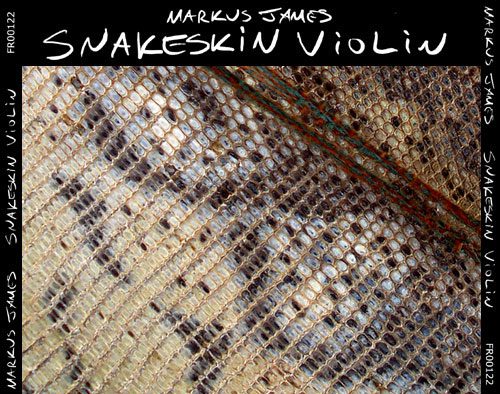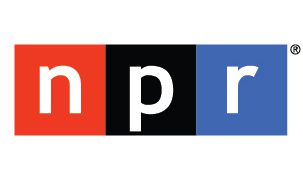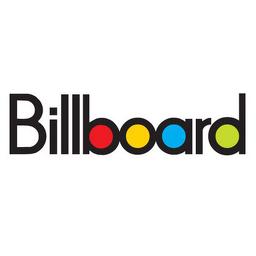 "Profound world blues passage… extremely distinctive pieces, driven by a seductive rhythmic circularity that's a keystone of Malian traditional tunes and Delta blues."
BILLBOARD MAGAZINE
"In his most varied and satisfying album to date, James delivers 15 songs that range from brooding minimalism to rollicking fusions of African and American sensibilities…an artist who has done as much as anyone to kick open the doors too long separating American and West African roots music."
AFROPOP WORLDWIDE
"The mix of sounds, instruments, and influences spanning the program is mind-boggling"
LIVING BLUES MAGAZINE
"Africa and Mississippi come together…"
BLUES REVUE MAGAZINE
"This is an extremely powerful album"
Ben Manilla, Executive Producer, House of Blues Radio Hour
Markus James
Calabash Blues
Afropop Worldwide's "Highly Recommended" 2006
"A sublime evocation of a landscape stretching from the muddy Delta to sun-baked Sahara sand"
DOWNBEAT
"An unbroken circle of centuries of history"
ROCK & RAP CONFIDENTIAL
Markus James
Timbuktoubab
"Nightbird is one of the deepest listening experiences that will hit the U.S. market this year."
BILLBOARD MAGAZINE
"Eerily atmospheric"
DOWNBEAT MAGAZINE
"A vital mix of the Mississippi Delta and Mali, a cultural exchange of haunting beauty and mystery."
BLUES REVUE MAGAZINE
"One of the most inspired and arresting world music/blues albums"
DIRTY LINEN MAGAZINE
"A hypnotic journey through time that goes all the way to the heart of the blues."
WIRED MAGAZINE
"The word soulful certainly describes this excellent CD, which blues, rock, and Afro-pop enthusiasts should all be aware of."
ALL MUSIC GUIDE
"Spare, moody, and beautiful, it builds a bridge between continents, and takes the blues home."
ROOTS MAGAZINE (UK)